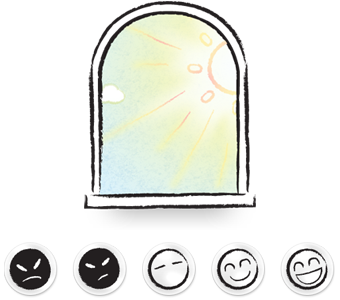 Frequently Asked Questions
What is My Wonderful Days and why did you make it?
My Wonderful Days is simply a diary. Main concept of the app is one-face-a-day. When we first made the app, we thought that one day was remembered by a feeling. That's why we made a bar to choose the feeling about the day. Writing about the day helps people to live happier and healthier life. We hope to make more people happy with My Wonderful Days.
How should I write everyday?
You can set a daily notice at certain time. Try writing anything simple at first and you'll get to start writing about your day easily everyday.
Is this app safe?
We do not keep any of your entries on servers. It's on your device only. If you use iCloud/Dropbox to sync your entries, it's on Apple/Dropbox's server only. You can set a passcode to lock your app and it'll be safe.
What happens if I lost my passcode?
Due to privacy issue, we do not provide any ways to unlock the passcode. When you set your passcode, you'll be asked to choose to send e-mail or SMS. Pick one and keep your passcode just in case.
When I choose iCloud sync, it says 'Can't connect to iCloud'
On iPhone and iPad,

** Check iCloud availability
- Go to iPhone or iPad's settings app.
- Go to iCloud
: Check if your account is set properly. It needs to be same on all the devices you use to make it sync.
: Check if 'iCloud Drive' is ON


And on your mac, check followings.

** Turn iCloud on
- Tap Apple button on top.
- Tap 'System Preferences.."
- Tap 'iCloud' on Internet & Wireless
- Log in with same ID you've used on iPhone
- Check if 'iCloud Drive' is ON

** Turn on iCloud inside the app's Settings > Sync.

If it's first time you're using iCloud Drive sync on your mac, you'll need to restart your mac to make it work correctly.
How does iCloud sync work?
iCloud sync is ran by Apple and most of the time, it just works. My Wonderful Days follow some rules on iCloud syncing. Check followings to use it well.

- Always the latest edited version wins.
: If you write, or tap on a face to make a star, the entry has been edited and it becomes the winner.

- When you're editing, it reads from the cloud.
: It tries to read and bring you the entry if it's not same as current version.

- When app begins, it reads from the cloud.
: Normally it takes a little moment before the app catches the changes on the cloud.

The most important thing to remember is this. If you have an entry that hasn't been synced yet, don't write or edit on the device that hasn't been synced. It'll all work well if you follow this.
iCloud sync stopped working
Most of the time, waiting will resolve the issue. If you think something went wrong with your entries on your device, try below which resets your iCloud status on your device.

- Go to iPhone/iPad's settings
- Go to iCloud
- Turn off 'iCloud Drive'
- Turn on 'iCloud Drive'
- Go back to the app
iCloud is still not working.
First check if all your entries are in iCloud.
- Go to iPhone/iPad's settings app.
- Go to iCloud
- Go to Storage & Backup
- Go to 'Manage Storage'
- Go to 'Documents & Data : My Wonderful Days'

* Entries are named "2016xxxx.entry or 2016xxxxx". (Date)

If all the entries are in iCloud, try deleting the app and re-install. It'll work.


I want to move all the entries from Lite version to Full version.
If you use iCloud, all entries will come in automatically.

If you don't want to use iCloud and move the entries, you should transfer the data by yourself using iTunes File Sharing method.

First go to the app. Go to settings(bottom right), and at the bottom, tap backup. Tap 'Backup Now' and make a backup. Choose the backup and download by email or iTunes File Sharing. To use iTunes File Sharing, you need to connect your device to a PC or Mac and turn on iTunes. Go to 'Your Device > Apps > File Sharing' and choose 'My W Days' and download MyWonderfulDays_backup.ZIP file.

On full version, do the same way by tapping 'Import' rather than 'Backup now'. Upload the same file you downloaded and all data will be transferred.
I want to keep all my entries double safe.
You can send a backup file of your entries by e-mail. Go to 'Backup' and make a backup and export it. Tap mail button on bottom right to send mail directly. If your backup file size is big, it'll be safer to download with iTunes.

We recommend you to keep your entries with PDF version. Go to 'PDF export' and make a PDF file of your entries. You can make a book or just print it to keep your valuable entries.
About Text Formatting
You can use bold, italic, underline, highlight, line, list and quote while writing. Simply tap the button on top of the keyboard while writing. Or you can type in syntax for each format to easily add them as you type.

Also you can add current time with a single tap. Tap the clock icon on top of the keyboard to add time immediately.

* Syntax used on My Wonderful days
: Basics came from Markdown format and underline, highlight syntax is referred from Bear app's Polar Bear markup language. Text is saved in plain text with below syntax and will be shown without syntax while viewing the entries and on exported PDF format.

**Bold** or __Bold__
*Italic* or _italic_
~Underline~
::Highlight::
Line : ***
List : * , - , + , 1. ,...
Quote : >


* Tips
- Tap Bold button to start writing in bold and tap it again to finish.
- Tap enter on empty line while editing lists and quotes to finish them.
- Select texts and tap buttons to edit them at once.

* Keyboard shortcuts on macOS
Add Time : CMD-T
Bold : CMD-B
Italic : CMD-I
Underline : CMD-U
Highlight : SHIFT-CMD-H
Line : CMD-L
List : SHIFT-CMD-L
Quote : SHIFT-CMD-U



Thanks a lot and hope you have a wonderful day!
If you have more questions, feel free to send us email to contact@hahaint.com :D